Amigurumi Clown Free Pattern
Hello dear Amigurumi Followers
Today we shareEasy Amigurumi Clown Free Pattern for you. As you know we share new free amigurumi pattern every day. The main crochets are gazelle, amigurumi bear, pola, crochet panda, penguin, giraffe, llama, pig, amigurumi bunny, clown, lamb, bee, crochet unicorn, amigurumi doll, fox, penguin, dinosaur, crochet elephant, hippo, monkey, crochet cat, crochet dog and more …
Todays daily new amigurumi free crochet pattern is Clown.
I want to give you some informations about this amigurumi free pattern;Clown.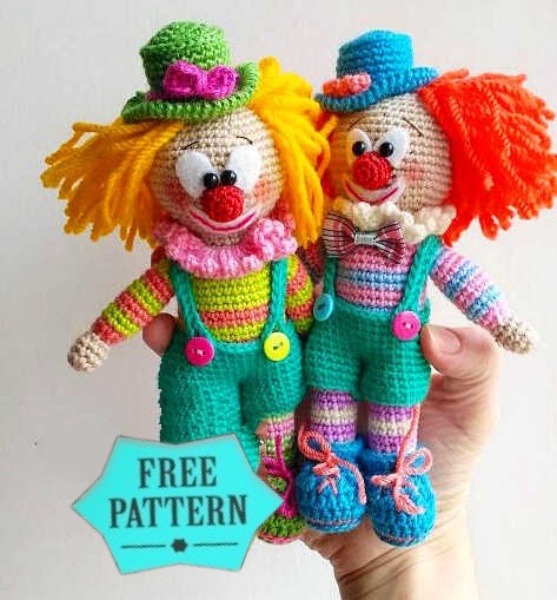 Abbreviations:
Magic ring – Magic ring
sc– single crochet
Ch – Chain
inc – increase
Dec – Decrease
sl-st – slip stitch
DC – double crochet
Hand – Arm:
Skin color
1- Magic ring 6sc
2- (sc, inc) * 3 = 9 sc
3-4- 9sc
5- (sc, dec) * 3 = 6 sc
Switch to the colored rope you want to use, Change one color in two rows
6- (sc, inc) * 3 = 9 sc
7- (2sc, inc) * 3 = 12 sc
8-17-12sc
Foot-leg-body-head Shoe color
1- 7 ch, starting from 2, 5 sc, w, 4 inc, inc = 14sc
2-inc, 4 sc, 3 inc, 4 sc, 2inc = 20sc
3-sc, inc, 4 sc, hdc, 4 inc, hdc, 4 sc, (sc, inc) * 2 = 27sc
4-27sc
5-6-6sc, 10 hdc, 11sc = 27sc
7- Shoe sole line (with different color) BLO 6sc, 5hdcdec, 11sc = 22sc
8-shoes color 5sc, 4hdcdec, 9sc = 18sc
9- 3sc, 4hdcdec, 7sc = 14sc
10- Switch to the BLO 14dc, FLO 14sc
Switch to knitting, change one color in two rows
11-22-14sc
23- 3sc (leg 1), 2ch, 14sc (leg 2) 2sc (ch), 11sc (leg 1) = 30sc
24-33- 32sc
We are adding arm at 34-side, 4sc at 13sc, add other arm at 4sc
35- 36sc
36- (4sc, dec) * 6 = 30sc
37- (3sc, dec) * 6 = 24sc
38- (2sc, dec) * 6 = 18sc
39- BLO skin color 18sc
FLO for scuff neck we continue to knit each sc, 3 Tr Neck and head
40- 18sc
41- (2sc,inc).6.24sc
42- (3sc,inc).6.30sc
43- (4sc,inc)"6.36sc
44- (5sc,inc).6.42sc
45- (6sc,inc).6.48sc
46-51- 48sc
52- (6sc,dec).6.42sc
53- (5sc,dec).6.36sc
54- (4sc,dec).6.30sc
55- (3sc,dec).6.24sc
56- (2sc,dec).6.18sc
57- (sc,dec).6.12sc
58- 6dec
Trousers
22 ch ring making
1-4- 22sc
We combine two legs
We do not knit a sc in the trousers and then we close it by sewing
5-8-42sc
9-10- Dec on both sides = 38sc
11-38sc
Hangers – 30zn, from 21 to 22sc
Hat
1- Magic ring 6sc
2-6inc = 12sc
3- (sc, inc) * 6 = 18sc
4- (2sc, inc) * 6 = 24sc
5-BLO 24sc
6-11- 24sc
12- 24inc = 48sc
13-48sc
14 – Reverse SC
Nose
Red
1- Magic ring 6sc
2-6inc = 12sc
3- (sc, inc) * 6 = 18sc
4-5-18sc